This cocoa butter deodorant recipe is completely free of dangerous chemicals and ingredients. It is
Phthalate free
Gluten free
Glycerin free
Aluminum free
Preservative free
Sulphate free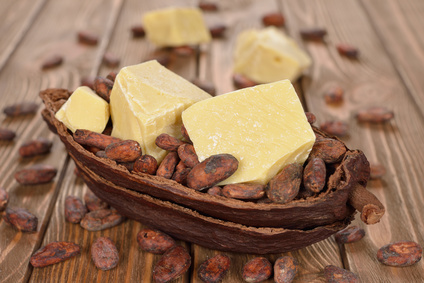 Cocoa Butter Deodorant Recipe
Ingredients:
1 teaspoon beeswax
2 to 3 tablespoons baking soda
8 tablespoons (4 ounces) organic cocoa butter
2 tablespoons cold-pressed unfiltered coconut oil
You will also need:
A plastic fork
A plastic deodorant tube, or a soap mold
Small saucepan
Directions:
Put the beeswax into the pan, along with the coconut oil and cocoa butter.  Heat the pan over the lowest heat setting.
Once the beeswax, cocoa butter and oil are completely melted, turn off heat and allow the mixture to cool.
Stir the melted ingredients with the plastic fork.  Add the baking soda and stir very well.
Allow the mixture to cool, stirring frequently to keep it well mixed.  You may set it in the refrigerator to speed the cooling process.  Be sure to keep stirring frequently.
When mixture is fully cooled and somewhat stiff, but still creamey enough to spoon up, spoon the mixture into the container, pressing it in, and set it into the refrigerator to solidify.
If you are using a soap mold instead, spoon the mixture into the soap mold, and set it in the refrigerator.
Note:
You may need to store your deodorant in the refrigerator in summer months.  If you want to make your finished product firmer, try adding a little more beeswax to the mix.